Bev Reay
Tel: 01274 678562
Mobile: 07904 193886
---
Update 16/08/2019 – Please contact me directly on one of the numbers above as the email contact form below is currently not working due to an issue with the mail provider. Sorry for any inconvenience.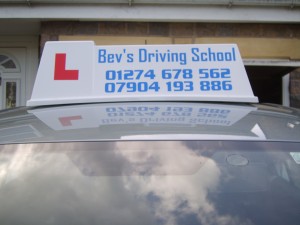 Legal obligations:
All learner drivers must hold a current provisional driving licence for a category B vehicle and meet the health and eyesight requirements for a Driving Licence.
If you need to wear glasses or contact lenses in order to read a number plate at the required distance then you will need to wear them whilst driving.
Appointments:
Whilst every care is taken to make sure all pupils receive tuition at the time arranged, all appointments are made on the understanding that the school accepts no responsibility for lessons postponed due to mechanical breakdown or other circumstances beyond my control. If this occurs another appointment will be made as soon as possible. The school has no control over tests cancelled by the DSA (Driving Standards Agency).
Cancellations:
The school reserves the right to charge the full fee if lessons are cancelled without 48 hours notice.
Driving Tests:
The school reserves the right to withhold the school's vehicle for the driving test if, in the instructor's opinion, the student does not reach the required standard. The test fee paid to the DSA will be forfeited if the DSA receive less than 3 clear working days notice of a cancellation.
Insurance and personal property:
Fees include comprehensive insurance cover whilst driving the school's car under tuition by a DSA approved instructor. Whilst every endeavour is made to safeguard personal property the school accepts no responsibility for cash, clothing or any other personal items left in the car.
Payment:
This is due in cash at the start of each lesson or at the start of your first lesson for block bookings.  All block booking fees are non refundable once lessons have commenced.
Mobile Phones:
Please ensure that all mobile phones are switched off prior to lesson commencing.
---